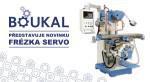 From 2017, BOUKAL s.r.o. will present itself with a new logo and corporate identity, which is already to be a part of the FOR INDUSTRY Trade Fair held in May.
At the trade fair, BOUKAL s.r.o. is planning to present a model from the series of the SERVO milling machine tools from the Austria-based firm "Bernardo".
These innovations in the world of machine tools provide perfect work conditions in the milling sector. One of the greatest advantages is the servomotor which drives the shifting movement in the directions of all three axes. The motor is resistant and is comfortably controlled from the control panel. By using a turning controller it is possible to continuously regulate the speed of the shifting movement of each axis, and the switching of the machine shifting is controlled there by means of one lever (instead of three).
The company is the exclusive importer of Bernardo goods for the Czech Republic, and besides specialised advisory services and deliveries of machines it is able to ensure suitable accessories according to your needs and such services as setting and commissioning of the machine or training of operators.
BOUKAL s.r.o. can offer a wide range of goods in the field of machines, tools, tooling equipment, abrasives and grinding materials.