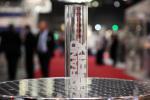 The Professional Jury assessed the exhibits registered according to their technical characteristics, progressive technology used, material processing, energy efficiency and environmental points of view. The members of the Jury were Doc. Ing. Stanislav Maňas, CSc. (Department of Production Machines and Equipment – Faculty of Mechanical Engineering of the Czech Technical University, Czech-Moravian Society for Automation), Ing. Bedřich Kopřiva, CSc. (Czech Technical University – Faculty of Mechanical Engineering) and Ing. Lukáš Procházka (Secondary Industrial School in Prosek).
Overview of the GRAND PRIX awards granted:
The award was granted to the TAJMAC-ZPS company for its CNC sliding headstock automatic machine tool Manurhin K´MX 916 Clever, which is intended for the machining of large series of complex parts.
The BONEGA company was appreciated by the Jury for its online project "Ověření návrhu.cz" (Design verification), serving for automatic generation of documentation for the so-called verification of the design of switchboards.
STYLE CNC Machines B.V. was given the award for the CNC milling machine for metals, known as STYLE BT1500E. It features a control system with an intuitive operation, including preparation of the programme, while maintaining the high precision during the machining process. An advantage is also the possibility of use for piece production.
Besides the above mentioned awards, also two GRAND PRIX honourable mentions were granted - to MEICO SYSTEM'S for its software and cloud modular solution for entrepreneurs known as Mtool, and to GF Machining Solutions for the WPT1+ automation system.
The TOP EXPO award for the most impressive exposition was granted to KEYENCE INTERNATIONAL BELGIUM NV/SA and Asseco Solutions, a.s.